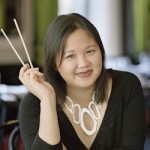 Jennifer 8. Lee
Co-Founder and CEO
A former New York Times reporter, Jennifer 8. Lee is an author, journalist and force in digital media. She is also the author of the New York Times-bestselling book, "The Fortune Cookie Chronicles" (Twelve, 2008). Jenny has been called a "conceptual scoop artist" by NPR, featured by Esquire as a "Woman We Love," and noted by Columbia Journalism Review as one of "20 Women to Watch in Media." She was one of the youngest full reporters ever hired at the Times. Her next book will be published by Simon & Schuster. Jenny has served as the lead judge for the Knight News Challenge, a $25-million grant program to spur news innovation. She also serves on the boards of the Nieman Foundation, the Center for Public Integrity, the Asian American Writers' Workshop, Hacks/Hackers, Awesome Foundation and the Robert F. Kennedy journalism awards. She is a member of the New York Public Library Young Lions Committee. Jenny graduated with a degree in Applied Math and Economics from Harvard, where she was vice president of The Harvard Crimson. She also studied International Relations at Beijing University and has a worldly hippo named Hubba Bubba.
Yael Goldstein Love
Co-Founder and Editorial Director
Yael Goldstein Love is a novelist, short story writer, essayist, book reviewer, writing instructor and editor. When her first novel, "Overture," was published by Doubleday in 2007, The New York Times Book Review called her "a writer of great emotional precocity," and wrote that her work showed "signs of brooding genius." Overture was published in paperback by Broadway Books as "The Passion of Tasha Darsky." In 2009, Jewcy Magazine named her one of the "100 Jews You Should Know About." She was named one of the "Top 20 Jews in the Arts" by Shalom Life Magazine. She has taught fiction writing at Boston's Grub Street, a center for creative writing, and served as a publishing assistant at The Paris Review. She graduated from Harvard University in 2000 with an honors degree in Philosophy. She is currently completing her second novel.
Juan Sebastián Pinto
Cover Designer
Juan Sebastián Pinto, born and raised in Ecuador, is currently working on his Master's degree in English at the University of Pennsylvania. He has a love for literature and writing, and has also been a freelance graphic designer for over six years, working both digitally and with mixed media. He loves collaborating with clients from all walks of life, and enjoys working with them in order to deliver the most effective and creative work possible. See more of his work on his personal website.
Aphee Messer
Cover Designer
Aphee Messer is an award-winning illustrator and designer with a passion for literature. Hand-lettered typography, children's illustration, emoji design, and book cover art are just a few of her specialties. In 2016, her design for a hijab emoji received international press, appearing in The New York Times, The Guardian, Buzzfeed, and many other media outlets all over the world. Originally from Wisconsin, Aphee now lives and works in Lincoln, Nebraska. Her future plans include writing and illustrating her own children's book, visiting all fifty states, and adopting a kitten.
Chaz Curet
Czar of Literary Projects
Chaz Curet has a BA in English from Stanford University. He oversees Plympton's literary projects.
Franklin Leonard is Overbrook Entertainment's vice president of creative affairs. He is the creator of the Black List and co-creator of Blcklst.com, a yearly publication highlighting Hollywood's most popular unproduced screenplays. Prior to Overbrook, Franklin was the director of development at Universal Pictures. He has done similar work at the production companies of directors Sydney Pollack and Anthony Minghella, actor Leonardo DiCaprio and former Paramount Pictures president John Goldwyn. Before Los Angeles and all things film-related, Franklin was—at different times—a business analyst at McKinsey & Co., a weekly columnist for The Trinidad Guardian in Port-au-Spain, Trinidad, and the communications director for John Cranley's 2000 campaign for the U.S. House of Representatives in Ohio's first district. He has been named one of Hollywood Reporter's 30 Under 30, Black Enterprise Magazine's "40 Emerging Leaders for Our Future," AOL Black Voices' "30 Black Hollywood Game Changers" and Fast Company's "100 Most Creative People in Business."
Baratunde Thurston
Adviser
Baratunde Thurston is a politically-active, technology-loving comedian. He served as Director of Digital for The Onion, co-founded the black political blog Jack and Jill Politics and hosted Popular Science's "Future Of" on Discovery Science. His first book, How To Be Black, is a New York Times bestseller. Fast Company listed him as "One of the 100 Most Creative People In Business" and The Root added him to its list of "100 Most Influential African Americans." He is now the founder of Cultivated Wit, a startup that uses the combined power of comedy and technology to make the world better.